The Woodlands Academy is a company with charitable status and also a state-funded school. We do not pay VAT and our wage bill is already covered. This means that every penny donated goes direct to supporting our pupils.
Fancy a challenge? Get in touch!
How about doing a sponsored event to raise money for The Woodlands Academy. We can help you promote your event to gain sponsors.
You could sponsor one of our scheduled fundraising events below
Or if you would like to make a donation directly to The Woodlands Academy please contact us on 01723 373260 or email Kerry.lenton@woodlands.n-yorks.sch.uk
Please see our Just Giving page to directly donate to our school funds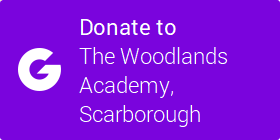 EF Banner